Hello, food lovers! Today, we're diving into the colorful world of Macedoine Salad. This delightful dish is a medley of diced vegetables, often served as a salad or side dish. It's a versatile recipe that can be tailored to your taste and dietary preferences.
Origin and history
The term 'Macedoine' is derived from the region of Macedonia, a historical and geographical area on the Balkan Peninsula in Southeast Europe. The region was known for its rich diversity in terms of culture, ethnicity, and food, which is reflected in the concept of the Macedoine Salad – a mix of different ingredients coming together to create a harmonious dish.
The salad itself, however, is a creation of French cuisine. It was first introduced in the 19th century, during a time when French chefs were known for their and decorative culinary creations. The Macedoine Salad, with its colorful mix of diced fruits or vegetables, was a perfect fit for this era. It was often served as a garnish or side dish, adding a splash of color and variety to the plate.
The original version of the salad was typically made with a mix of vegetables like carrots, turnips, and green beans, all cut into small, even cubes. Over time, the recipe evolved and became more flexible, allowing for a variety of fruits or vegetables to be used according to the season or personal preference.
Today, the Macedoine Salad is appreciated not just for its visual appeal, but also versatility and health benefits. It's a great way to enjoy a variety of fruits or vegetables in one dish, and it can be easily adapted to suit different dietary needs served as a side dish or a light main course, the Macedoine Salad continues to be a beloved part of French cuisine and a popular choice for healthy, flavorful eating around the world.
Tips and notes
Here are some tips and tricks to help you create a successful Macedoine Salad:
Always use fresh, high-quality fruits and vegetables. The fresher the ingredients, the more flavorful your salad will be.
Try to dice your fruits and vegetables into even, bite-sized pieces. This not only makes the salad easier to eat but also ensures that the flavors are evenly distributed.
When boiling the vegetables, make sure they are tender but still firm. Overcooking can make them mushy and affect the texture of the salad.
Don't drown your salad in dressing. The dressing should lightly coat the ingredients, not overpower them.
Even with a good dressing, your salad may taste bland if you forget to season it. Don't forget to add a pinch of salt and pepper to enhance the flavors.
For the best flavor, chill your salad in the refrigerator for a few hours before serving. This allows the flavors to meld together.
The authentic recipe serves as a base that you can customize to suit your preferences and make it your own. It typically consists of diced mixed vegetables (such as carrots, peas, green beans, and potatoes). But, don't be afraid to experiment with different vegetables, fruits, and dressings. Feel free to add your own variations to the Macedoine salad by incorporating additional ingredients according to your taste preferences like:

diced pickles or olives,
protein (cooked and diced chicken, ham, turkey, or bacon),
cheese (crumbled feta, diced cheddar, or grated Parmesan),
nuts & seeds (toasted and chopped almonds, walnuts, sunflower seeds, or sesame seeds),
fruits (diced fruits like apples, pears, grapes, … or dried cranberries),
hard-boiled eggs,
fresh herbs (parsley, basil, dill, or cilantro).

Macedoine Salad is a great dish to make ahead of time, as the flavors improve with a little time. Just remember to add any ingredients that might wilt or discolor (like apples or pears) just before serving.
The beauty of a Macedoine Salad is its versatility. Don't feel like you have to stick strictly to the recipe – if you prefer certain vegetables or fruits, feel free to add them!
Serving
Macedoine salad offers a multitude of serving suggestions and possible accompaniments to enhance your culinary experience. As a versatile side dish, it pairs well with grilled meats, roasted chicken, seafood, or vegetarian dishes. Its refreshing flavors and vibrant colors make it an excellent addition to any meal. Macedoine salad can also be incorporated into picnics and potlucks, where its ability to hold up well and be easily shared is a definite advantage. You can use it as a filling for sandwiches or wraps, adding a delightful crunch and freshness to your handheld creations. Additionally, Macedoine salad can serve as a beautiful garnish or topping for cold appetizers, adding a burst of flavors and colors to crostini, bruschetta, or crackers. For a light and healthy option, serve it in lettuce cups, allowing the crispness of the salad to contrast with the tender lettuce leaves. Whatever way you choose to serve it, Macedoine salad is sure to impress with its versatility and ability to complement a wide range of dishes.
Variants
Russian Salad 'Olivye';
Caprese Salad;
Tabouleh;
Caesar Salad;
Thai Papaya Salad (Som Tam);
Mexican Corn Salad (Esquites);
Japanese Seaweed Salad (Wakame Salad);
…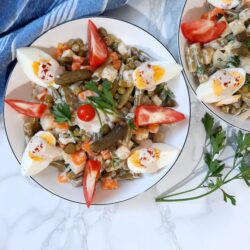 Fresh and Vibrant: Exploring the Delights of Macedoine Salad
Hello, food lovers! Today, we're diving into the colorful world of Macedoine Salad. This delightful dish is a medley of diced vegetables, often served as a salad or side dish. It's a versatile recipe that can be tailored to your taste and dietary preferences.
Ingredients
Salad
2

carrots

2

potatoes

2

zucchini

150

g

peas

(⅔ cup)

150

g

green beans

(¾ cup)

1

tsp

salt
Dressing
3

tbsp

mayonnaise

1

tbsp

mustard

1

tbsp

white vinegar

½

tsp

salt

¼

tsp

black pepper

Parsley

(garnish)
Instructions
Trim and dice the green beans.

Peel and dice the carrots.

Peel and dice the zucchinies.

Peel and dice the potatoes into small cubes.

If using fresh peas, blanch them in boiling water for a few minutes until tender. If using frozen peas, thaw them.

In a large pot of salted boiling water, cook the diced vegetables separately until each is tender but still firm: start by adding peas. After 5 minutes add carrots and green beans. After another 5 minutes add potatoes and zucchini and cook for another 5 minutes.

Drain and transfer them to a large bowl of ice water to cool and stop the cooking process.

Once the vegetables are completely cooled, drain them well and transfer to a mixing bowl.

In a separate small bowl, whisk together the mayonnaise, mustard, white wine vinegar, salt, and pepper to make the dressing.

Pour the dressing over the diced vegetables and gently toss to coat them evenly.

Transfer the Macedoine salad to a serving dish and garnish with fresh parsley or chives, if desired.

Serve chilled and enjoy as a refreshing side dish.
Nutrition Facts
Serving Size 1 person
Servings Per Container 4 persons
---
Amount Per Serving
Calories 201
Calories from Fat 45
% Daily Value*
Total Carbohydrate 34.9g
12%
---
*Percent Daily Values are based on a 2,000 calorie diet. Your daily values may be higher or lower depending on your calorie needs.