This dish is based on Cardoon, a low calory plant that tastes like an artichoke. It's prepared as a tajine with chicken and kalamata olives.
We continue our challenge, this time with the wilaya of Tlemcen.
Tlemcen, also spelt (since 1981)Tilimsen, is a city in north-western Algeria, and the capital of the province of the same name. Tlemcen is close to the border of Morocco, and represent one of the most beautiful towns in Algeria. It is backed by the cliffs of the well-watered Tlemcen Mountains and overlooks the fertile Hennaya and Maghnia plains. Lying at an elevation of 2,648 feet (807 metres), Tlemcen is located sufficiently inland to avoid the humidity of the Mediterranean Sea coast but is near enough to receive cooling sea breezes in summer.
It was a little more difficult to find a typical dish of this city since it is near on the front of Morocco so, most of the dishes are common between the two regions with some small difference.
In our challenge, we wanted to prepare a typical dish of Tlemcen, one that cannot be found anywhere else. After several searches, we finally decided to prepare a tagine based on cardoons with kalamata olives.
Cardoons are commonly called "khorchef خرشوف" in Algeria. It is also called "Quennaria قنارية" in Morocco.
Cardoons (also called cardones) are thistle-like plants, which grow abundantly in the Mediterranean and are usually in season from November to March.
It has a taste close to that of the artichoke and has the shape of celery. But unlike artichokes, it's not the blossoms we're after, but the stalks. Their delicate artichoke-like flavour is addictive.
The cardoon ribs are a very low caloric food (13 calories per 100 g), but it is very rich in fiber and represents a significant contribution in potassium and vitamin B9.
The cards are prepared with kalamata olives: a large red golden purple with a smooth, meaty texture and a strong fruity flavour, named after the city of Kalamata in the southern Peloponnese, Greece. They are more bitter than the black olives, but they are brined in water, salt, and red wine vinegar, which mellows their bitter cock and softens the flesh. The olives are a bit salty, so for the recipe, we bleached the olives 3 times by putting them in cold water and bring it to a boil then change the water for 2 more times.
For the region of Tlemcen, they usually use mutton meat. For a less fat dish, we have prefered to use chicken.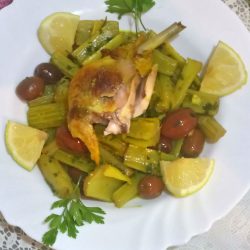 Cardoons with olives
This dish is based on Cardoon, a low calory plant that tastes like an artichoke. It's prepared as a tajine with chicken and kalamata olives.
Ingredients
500

g

cardoons

250

g

chicken

80

g

Kalamata olives

1

red onion

3

cloves

garlic

3

tbsp

parsley

3

tbsp

olive oil

100

ml

water

80

ml

lemon juice

1

stick

cinnamon

1

tsp

salt

½

tsp

ginger powder

½

tsp

turmeric powder

¼

tsp

black pepper
Instructions
Fill a large bowl with cold water and add half the lemon juice. Set aside.

Trim both ends of the cardoon stalks and all leaves.

Using a paring knife, shave the edges off each stalk, and peel off the wide protruding ribs (as you would a celery stalk).Cut each stalk crosswise in 5 or 6 cm (2" and 2,5") pieces and immediately place in the lemon water bath.

Fill a large heavy-bottomed pot with water and bring to a boil.

Add the rest of lemon juice and salt. Drain the cardoon pieces and add them to the boiling water.

Boil for 20 to 30 minutes until just tender, but still a bit firm.

Scoop them out with a slotted spoon. Drain, cover and reserve.

First, start by mince the cloves of garlic and chop the onion.

Place a Tajine or a casserole on medium heat.

Add the oil and meat in the tajine, let brown a few minutes.

Add the finely cut onion.

Stir until onion is sweated and add minced garlic.

Add all the spices, then mix well, cover and brown more for a few minutes, about 10 minutes, stirring occasionally.

Add 100 ml of the water.

Cover the tajine and cook for about 15 minutes.

Add the pieces of cardoon, salt and pepper slightly.

Cover and cook for about 15 minutes.

Monitor the level of the sauce and add a little water if necessary, but not too much.

Add the kalamata olives with chopped fresh parsley.

Cover and cook again 10 minutes.

Adjust the seasoning and remove from heat.

Serve on a plate with fresh parsley and lemon slices.
Nutrition Facts
Serving Size 1 plate
Servings Per Container 3
---
Amount Per Serving
Calories 334
Calories from Fat 179.1
% Daily Value*
Total Carbohydrate 14.5g
5%
---
*Percent Daily Values are based on a 2,000 calorie diet. Your daily values may be higher or lower depending on your calorie needs.